21 Sep

Realtime's Response to COVID-19 Updates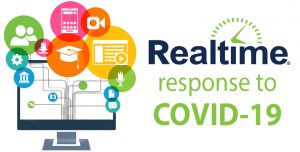 Updates to Daily Questionnaire: 
For Staff & Student Questionnaire – Departments>Office>Daily Questionnaire>Add/Maintain Questionnaire
New Questions have been added:
In the past two weeks has anyone in your household been in contact with someone diagnosed with COVID-19?
Do you have COVID-19 test pending?
"Message/Directions to User": Text Box 250 characters. This message will display at the top of the questionnaire page prior to the questions.
For Student Questionnaire – Departments>Office>Daily Questionnaire>Add/Maintain Questionnaire
Selection for Parent Portal Contacts that will receive questionnaire
Lives Here only – Questionnaire only available to "Lives"Here" Portal User
Lives Here & Mail Here – Questionnaire will be available to both "Lives Here" & "Mail Here" Portal User. Whoever answers first, will excuse the other portal user from the requirement.
Selection of Students
Option to include Remote Learners
Option for only Cohorts attending on current day
Reminder: Students should only be in ONE cohort group & the cohort group has to be assigned to location's calendar.
Questionnaire Reporting
Student Questionnaire Report – Departments>Office>Daily Questionnaire>Student Questionnaires
Homeroom & Grade filters added
Student's Homeroom & Grade displays on report
Staff Questionnaire Report – Departments>Office>Daily Questionnaire>Staff Questionnaires
Position filter added
Default Location Only filter added – helpful when staff has multiple "Working Locations".
———————————————————————————————-
Previous Updates to Daily COVID-19 Questionnaire – This recently released feature allowing parents, students, and staff to track district selected COVID-19 related questions through the Parent Portal, Student Portal, or within Realtime (for staff) has been updated with the features listed below. 
Added optional Opt-Out for Students & Staff
Custom response message for Opt-Out for Students & Staff
Custom response message for questionnaire completion for Students & Staff
Additional questions added
All questions are now mandatory
Option to Inactivate Questionnaire
Students that are flagged as Yes to Remote Learning will not be included in the questionnaire process.
Report enhanced with filter for position, locations & updated colors
Cohort Group description & Remote Learning icons – we continue to display these two important student designations to pages and reports. They have now been added to all Period Attendance, Daily Attendance & teacher's Gradebook Roster. All appear without additional instructions with the exception of the Cohort description within the Gradebook Roster. Directions are below in the Already Implemented section.
Already Implemented
Device Distribution Tracking– This feature provides a 1:1 device area to record Device Type, Asset Tag #, Serial #, and Status. This device can then be connected to a student with an Issue Date & Return Date, creating a history of 1:1 devices the student has utilized.
Creating and Assigning Cohorts– Districts are using groups or cohorts to schedule students to determine and assign the days they physically and remotely attend school.  This feature will allow for one gradebook, one lesson plan book, and one place to record attendance. It will also facilitate returning to regular attendance when/if that returns. This area has continued to expand with assignment of cohorts, reporting and student header icons.
When Cohorts are assigned to a location they will display on: Student Header Icon | Parent/Student Portal Header | Class List |Homeroom Listings |Adjust Schedule Class List
Cohort Designation on the Gradebook Roster Page – to activate go to System Admin>System Settings>Locations>Add/Maintain – edit location and click on Gradebook tab – Change Display Student Cohort on Roster: to Yes.
Student Data Search>Quick Export>Cohort Group ID added to last column of exported file
Student Schedule List View and Edit Schedule will display Cohort section totals
Class List icon located on Student Schedule List, Block and the Master Schedule will show the Cohort ID
Department>Office>Group Maintenance>Update Students can be filtered by Remote Learners and when adding those students to a Group and they can be removed from any Groups in the same Group Type. This can be used to quickly move students out of one cohort and into another.
Cohort ID can be assigned to the location calendar
Identify Students Opting for 100% Remote Learning– new field on student's Personal tab. Option to use Parent Portal Question to update the Yes/No value of this field.
Use Student Data>Add/Mass Update>Miscellaneous>Remote Learning field to mass update
A report/export of Remote Learners can be achieved using a Custom Report – Student Data>Reports>Custom Reports>New
Medical Concerns for Staff – Ability to maintain Medical Concerns for staff and print a list of those concerns based on location, position, and medical concern type.
COVID-19 Alert for Medical Concerns– The ability to flag a medical concern as COVID-19, which will create a unique student header icon. Entering this Medical Concern with an Entry and Expiration Dates for the student and staff will make it possible to print reports of COVID-19 status.
As they are available, the features will be detailed on the Tips, Tricks and Announcement homepage and/or future email notifications sent to the Realtime District Administrators. If there are additional questions you can contact our Support Team.
Since you are a Realtime District Administrator it is important that you are aware of this information so you can communicate the information to the correct Realtime Users in your school or district. Thank you for accepting this responsibility.